Hotto Link is the largest social data provider in Japan.
We are the nationwide leader in social media analytics.
Our company slogan is: "Make the world Hotto."
We create a world wherein people can feel the essence of 'Hotto' - a Japanese concept word translated as 'a feeling of relief.'
Our business operations and processes are expressed as a beneficial relationship between three key concepts:
Big Data, Social, and Cloud.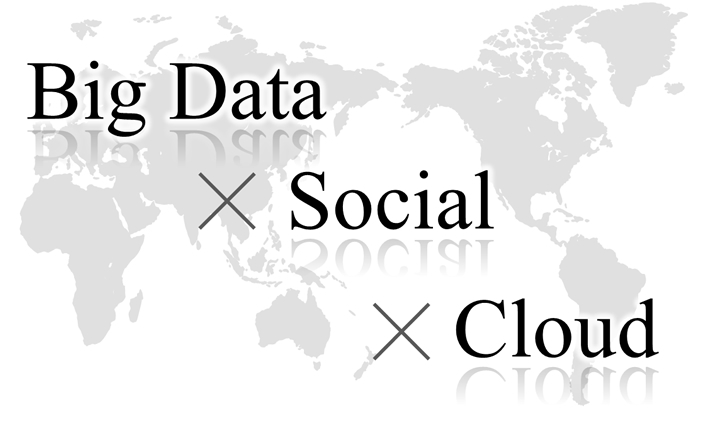 Hotto Link's business concept
The Big Data market can be segmented into five functional layers: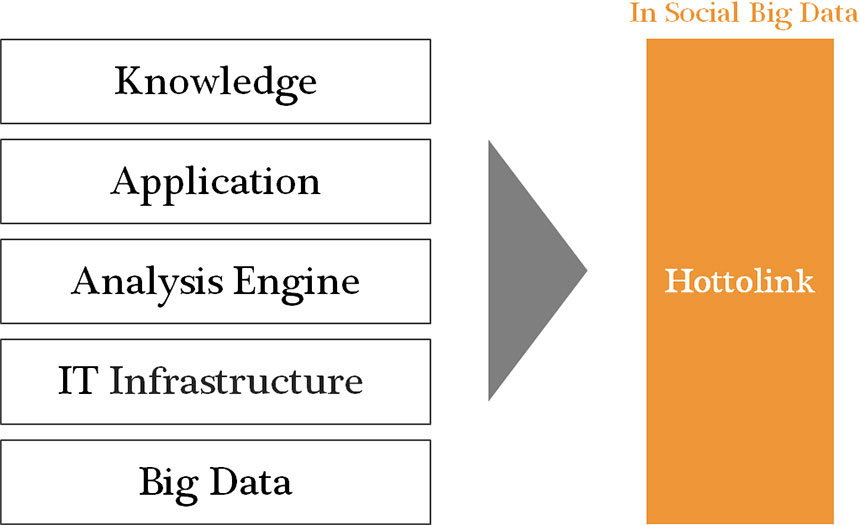 The First Layer: Big Data.
Many companies do not utilize Big Data resources but, instead, rely solely upon their own data.
To emulate Big Data results, such self-reliant companies must invest considerable time and money in gathering their own data.
That is a formidable barrier for any company considering the advantages of using Big Data.
The Second Layer: IT Infrastructure.
Gathering Big Data entails storing thousands and thousands of terabytes of information - a daunting IT task for any company.
The Third Layer: The Analysis Engine
Along with the necessary IT infrastructure, developing analysis processes and methodology is required to handle huge amounts of data.
The Fourth Layer: Applications
The application layer provides the necessary advanced tools to get Big Data results.
The Fifth Layer: Knowledge
Knowledge is the result of combining the first four layers and the ultimate quest in good decision-making on every level.
Each of the five layers also provides data scientists with specific tools in their specific area of Big Data research.
Each layer provides an essential aspect of our total Big Data solution. Our clients can choose their own entry point and then,
integrate the five layers into one solution.
In 2005, we started out with social Big Data, utilizing the first four layers -focusing on key aspects of daily Japanese life.
We simultaneously created our own IT storage infrastructure, analysis processes, and the necessary Big Data applications.
Today, our solutions are specifically designed for Big Data users in Japan.
We also provide Big Data consultation to share our expertise and create efficiencies for our clients in their quest for knowledge.
We enable our clients to make the right choice for their Big Data needs - saving them valuable time and money.
Tokyo headquarters
Hotto Link Inc.
Fujimi Duplexbiz Bldg.5F, 1-3-11 Fujimi-cho, Chiyoda- ku,Tokyo 102-0071 JAPAN